06 Apr

Catherine Stokes, President, Commercial Development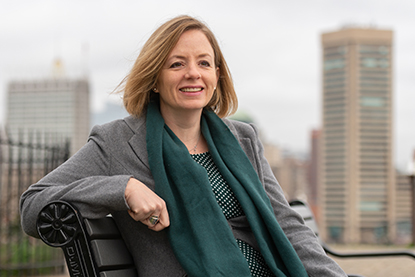 "I AM a lover of cities, especially Baltimore. I love to walk the streets, explore different neighborhoods and learn what makes them special. I enjoy finding its hidden treasures and characteristic charms in unique neighborhoods. Each one has timeless quirks and qualities that define its inherent beauty."
As President of Commercial Development, Ms. Stokes' key responsibilities will include, among other things, development, acquisitions, financing, management, planning and design, and joint ventures for existing and new Commercial Group projects.
Ms. Stokes brings, to the role, more than 15 years of real estate and community development experience, including work in both public and private sectors. She previously worked at Telesis Corporation, where she was responsible for the management of large-scale, multi-phase neighborhood redevelopment projects and the development of both homeownership and multi-family rental development projects. Before that, she worked for the New York City Department of Housing Preservation and Development, where she served as the Program Manager of HPD's HUD Multifamily Preservation Loan Program. In this capacity, she was responsible for the direction of a new loan program targeted to finance the rehabilitation of large distressed multi-family buildings.
A graduate of the University of Notre Dame, Ms. Stokes earned her Master's Degree in City/Urban, Community and Regional Planning from the Massachusetts Institute of Technology. She serves on the Board of Directors for the Maryland Affordable Housing Coalition and GreenMount School. She is a graduate of the Greater Baltimore Committee's LEADERship program and is a member of CREWBaltimore.
Ms. Stokes makes her home in Baltimore with her husband, Michael, and two children, Audrey and Carter.